Hoppers Crossing Family Dentist
The Most Trusted Cosmetic and General Dentists
In Hoppers Crossing
Highly Recommended Cosmetic Dentist Hoppers Crossing
Thank you for choosing the most-trusted dentist in Hoppers Crossing for your dental health. We welcome you to our 7-star customer service in a highly comfortable, compassionate and relaxed environment. Talk to your affordable and caring dentist Hoppers Crossing today.
Key Reasons Hoppers Crossing Locals Choose Us
Creating Amazing Experiences
We make You Feel Delighted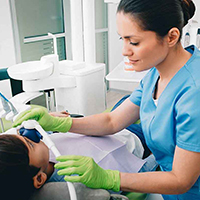 We Take The Fear And Pain Out Of Dentistry
Interest Free Payment Plans
Interest Free Payment Plans
Making Dentistry Affordable
Affordable check-up & cleans
Affordable check-up & cleans
Only $249 For Confident Smile
Meet Our Amazing Hoppers Crossing Dentists and Support Team
An amazing dental team who is passionate about patient care. We always go above and beyond to help you get your desired smile. We have a highly skilled and experienced dental team to look after your pearly whites. No need to put up with the fear of drills, crooked teeth, cavities and gum problems anymore. Your search for dentist hoppers crossing ends here. Get quality dental treatment from our amazing dentists in Hoppers Crossing.
Dr. Sonam
Principal Dentist
Gentle, Caring and Compassionate Dental Services in Hoppers Crossing
We are Hoppers Crossing's leading dental clinic for Cosmetic Dentistry, Sleep Dentistry, Emergency Dentistry, General Dentistry and Teeth Replacement. See some of our most sought dental services here:
Dental Accreditations, Associations and Partners
Check Out Some Of Our Amazing Smile Transformations
Please fill the form Below
Searching for a dentist near me in Hoppers Crossing? We are here to help.
Hoppers Crossing Family Dentist
2 Baggott Dr, Hoppers Crossing VIC 3029
Frequently Asked Questions
What payment options are available?
We have multiple interest free payment plan options at our Hoppers Crossing Dental Practice. Our team will help you guide to choose the best payment plan suitable for your requirement. You can find more details on our payment plan page.
How often should I get a dental check-up and clean?
We recommend our patients to get a dental check-up and clean appointment at least twice a year. 6 monthly check-up and clean helps you maintain optimal oral hygiene and helps in avoiding any major dental treatment surprises.
What dental services are available at Hoppers Crossing Family Dentists?
We offer affordable dental services in Hoppers Crossing which includes:
Cosmetic dentistry
General dentistry
Porcelain Veneers
Dental implants
Invisalign
Crowns & Bridges
Children Dentistry
Emergency Dentistry
Do you provide same-day dental emergency services in Hoppers Crossing?
Yes, we try our best to fit dental emergencies on the same day at our hoppers crossing dental practice.
Are you a bulk bill dentist in Hoppers Crossing?
We do bulk bill dentistry for eligible candidates. In Australia, bulk-bill or medicare sponsored dentistry is available for families who qualify for the Child Dental Benefits Schedule or CDBS. For more information regarding bulk billing dentist in Hoppers Crossing, feel free to reach out to our team.
How do I make an appointment at Hoppers Crossing Family Dentist?
You can book an appointment online through our website or call us at 03 9748 6552
Where are you located?
We are a highly reputed general and cosmetic dentistry service in Hoppers Crossing located at 2 Baggott Dr, Hoppers Crossing VIC 3029
Has Hoppers Crossing Family Dentist got good reviews?
We let our customers speak for us, please check our reviews on online platforms such as Google and Facebook
We invite you to our world-class dental facility in Hoppers Crossing to experience outstanding customer service from our amazing team.
A dentist review from a new patient like you is the best compliment our team can have.
Are you a cheap dentist in Hoppers Crossing?
Our philosophy is to treat our clients like our family. Hence, you are in safe hands at Hoppers Crossing Family Dentist. This is because we love seeing referrals and recommendations from clients like you, who had an amazing experience with our team. A cheap dentist doing cheap dental work would eventually fail within 2 years or less. This would lead you to be sad and in the pain. We want our clients to be happy and healthy, hence you get the highest quality dental work at Hoppers Crossing Family Dentist at reasonable prices.